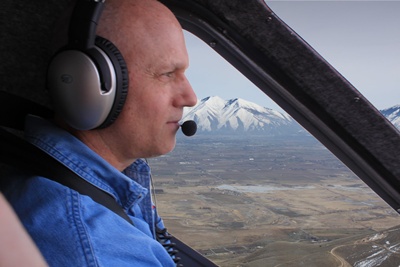 Friends of URA
PRA Chapter 1 (CA)
PRA Chapter 15 (AZ)
PRA Chapter 31 (CA)
PRA Chapter 38 (CO)
PRA Chapter 58 (CA)
PRA Chapter 73 (OR)

Great flying, friends, food and fun! This year, ROTR returns to Brigham City Airport with a hangar/clubhouse for forums, intro flights, instruction and inspection services, and spectacular scenery! Register for awards, come early for your airworthiness or annual condition inspection, meet pilots and builders, and talk with manufacturers reps!
Camping is free on the airport starting June 7, but no hookups for RVs. Campers here last year reported they slept well. Most motel chains have locations nearby along I-15, but in-season (higher) rates kick in after Memorial Day.
Camping alternatives:
KOA, 1040 West 3600 South - (435) 723-5503
Golden Spike RV Park, 905 West 1075 South - (435) 723-8858
Directions - From I-15, take Utah Exit 365. Turn east at the bottom of the ramp and proceed about 200 yards, then turn left on Airport Road. Look for a large billboard overhanging the road – just before you reach it, turn right on 1800 S, and look for signs and/or parking personnel.


Brigham City Airport (KBMC) has recently received $14 million in upgrades, yet averages fewer than 70 operations per day, and is in Class G airspace up to 700' AGL. (Click diagram at right for full FAA AFD info.) There are sparsely populated areas nearby to explore safely at low altitude. 100LL avgas is available on the field 24/7 with credit card. Auto fuel available nearby (bring cans).

Airport Traffic & Safety - Elevation is 4,229' MSL; standard pattern is left for both 17 and 35 at 1,000' AGL (5,229' MSL.) Birds in vicinity of approach end of runway 17. Ag planes may be conducting frequent operations from south end of airport. Watch for congestion and mixed fixed-wing & rotor wing traffic on Saturday morning during fly-in breakfast/open house. Density Altitudes may exceed 7,000 feet.

Gyroplanes use left pattern at 500' AGL (4,729 MSL) for both runways 17 and 35, well inside a typical fixed-wing pattern. Calm wind runway is 35; space downwind approximately over Airport Road, outside camping/parking areas. No takeoffs or landings on taxiways per management.

Helicopters use standard pattern when practical; use right pattern when necessary to avoid fixed-wing traffic.
CTAF is 123.05 Mhz. All rotorcraft announce "clear" on CTAF when starting engines, props or rotors. (Will also be heard on PA system). All engine starts are to be in designated areas, or minimum 500' from pedestrians.
Schedule – Pilot briefing 8am daily. If you miss it, see Curt Pittman before you fly. Forum schedule will be posted when available.
Awards include Grand Champion, Reserve Champion, Innovation, Farthest from Home and Dead Dinosaur (most observed flying) awarded by URA committee; Pilot & Machine awarded by vote of pilots flying at ROTR; Peoples Choice based on voting from open house attendees Saturday.
Closing BBQ at 6pm Sat, $10 donation. Awards immediately follow.
Area Gyroplane Services:
Airworthiness Inspections - Jim Gilchrist, DAR, [email protected]
Flight Reviews & Instruction – Mike Burton, CFI, (801) 794-3434
Annual Inspections – Jaime Horning, [email protected]